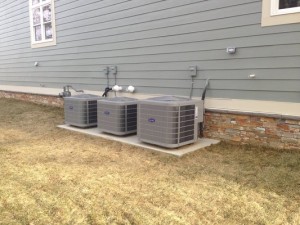 Ongoing HVAC Maintenance To Extend The Life Of Your Sytem
Did you know that 80% of Heating & Cooling breakdowns occur in the electrical control circuits of Heating & Air Conditioning equipment?

Most of these problems can be addressed proactively as we monitor these components they decay over time. We offer yearly service agreements were we service the heating system in the fall and the ac system in spring/summer cooling season.

These Agreements Start at $180 per year ( some units such as mini splits, roof top units and commercial buildings are additional cost)

The include the following:
1 Heating maintenance.
1 Cooling maintenance.
Examine electrical connections ie wires, capacitors, relays, circuit boards and motors.
Check the Refrigerant pressures ( if they are to low system will freeze, if they are to high you run risk of premature compressor failure)
Clean flame sensors and check safety switches.
Test Condensation Drain
Visually examine system coils.
Benefits to you:
You have a more reliable system.
Lower operating cost with an optimized system.
Reduced service calls.
Express priority service.
10% off of all repairs.
10% off of indoor air quality equipment